RAGNAROK 3.0. The name says it all!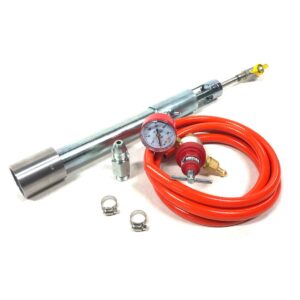 The best naturally aspirated gas burner out there? - Well, it seems so. Now even better! With our NEW Ragnarök 3.0, we have further optimized and expanded the curves and shape of the air intake. In addition, we now turn the accelerator pipe for best performance. Small details - Even better!
THE PRINCIPLE OF A JET ENGINE
No extra air needs to be supplied and yet almost 30% more efficient than its classic predecessor with the air intake at the top of the burner. Perfectly adapted air intakes from the sides together with the so-called accelerator tube that compresses the LPG, nozzle and end nozzle make Ragnarök unsurpassed in its ability to convert gasinto heat. Ragnarök provides higher power, lower gasconsumption, insignificant decarbonisation and no glow plug. Please read more about our test we carried out at Luleå Technical University Universitet, further down the page.
Our Ragnarök 3.0
Fits larger aces and melting furnaces! Glassblowing is a customer group that we had not foreseen at the beginning but which has quickly grown and generated many sales, which feels extra fun and exciting. Also trusted to supply burners to a bottling plant for a world leading premium vodka, who use our burners for maintenance and parts replacement to avoid downtime.
Ragnarök 3.0 is turned, milled and threaded with the highest precision for best performance, durability and quality. Each Ragnarök comes complete with a valve for easy and quick adjustment or shut-off directly on the burner.
Valves
The valve on the burner provides a more precise and finer adjustment than a regulator, so therefore a perfect complement. Surface-treated for a nice finish and at the same time provides wear- and rust-resistant protection. Stainless steel end nozzle for long service life. Ragnarök comes along 10 year warranty!
---
VENTURI vs RIBBON
Why we chose Venturi
Our RAGNARÖK (Venturi) gas burner has all the features we wanted: Light/flexible, minimal design, very easy to use even for the inexperienced, no fan or electricity needed, non-existent decarbonization, extreme power, low gas consumption, long life and incredibly affordable! But absolutely the most important, safe for the customer to use.
Why we didn't choose Ribbon
More expensive to manufacture, longer manufacturing time, possibly more difficult to maintain, clean and repair. Also takes up more space, significantly heavier and in our tests less efficient at low temperatures. In addition, they are more complex and require significantly more knowledge and experience from the customer before use, which became a decisive factor. (We cannot currently sell ribbon burners in view of the customer's safety. We know this from experience from situations that can arise if you do not have full control.)
---

Its all about the details! / Walt Disney
---
SET INCLUDES
1pcs - RAGNAROK 3.0
Air sleeve
Accelerator tube
Valve (ISO 228)
Nozzle
Hose connections
Stop screw
Wing screw
End nozzle (RF-316)
GAS REGULATOR
GAS OIL ADAPTER
HOSE (EN559)
HOSE CLAMPS
10 YEAR WARRANTY*
INSTRUCTIONS FOR USE - RAGNAR SMOKE
⚠️Please note! Always hire a qualified gasinstaller. gascan be dangerous if you are not careful to install everything correctly. Check at regular intervals that connections and hose etc. are tight. You can do this with, for example, soapy water or with the AGA Propane Leak Finder. Ensure good ventilation.
---
ORDER &
DELIVERY TIME
BOOK IN ADVANCE - YOU can of course pre-book a burner by contacting us. Please also enter your mobile number. We will contact you when it is ready. (NOTE! You are not committed to any purchase, you can easily change your mind.)
WAITING LIST - NOW you can sign up for our waiting list, which you can find at the product's stock balance. This list places YOU in a queue, then you automatically receive an email as soon as the product is back in stock. (NOTE! Not valid as a booking)
---
TACK
NI are many who contributed to everything and after lots of tests and adjustments, we did it! Want to give an extra big thank you Michael Porter for exact descriptions and loads of tips. And thank you Kent Mrozek - Luleå University of Technology and Pär Sandström - SSAB. You and many others have meant an incredible amount during this project!
---
TESTS
Decarburization test performed by Luleå University of Technology
GAS BURNER vs DECARBING
Decarburization or Decarburization in a carbon steel means the process where the carbon content in the steel is reduced by releasing carbon atoms from the steel. This can occur at high temperatures, typically above 700°C, and can be intentional or unintentional. Decarburization can affect the steel's properties, including its hardness, strength and toughness. It can also affect the steel's ability to undergo certain treatments, such as hardening and tempering. Decarburization may be desirable in some cases, such as in the manufacture of soft and malleable steels, while it may be undesirable in other cases, such as in the manufacture of tool steels that require high hardness and impact resistance.
DOES THIS APPLY TO ALL BURNERS?
.. or is there a model that has a superior gas/oxygen burn so the risk of decarburization never becomes an issue? THE TEST and TEST RESULTS showed that our gas burner RAGNARÖK 1.0 is up to 100% more effective, with an average of 30-50% efficiency in gas/oxygen combustion than the classic burner. So now we can proudly guarantee you that remarkable decarburization in the steel does not occur with any of our Gasolassjas or with RAGNAROK burners when you forge. However, avoid burning the carbon steel regardless of the heat source. See Luleå University of Technology test results below. Also note that decarburization only occurs on the surface and extends only micrometers (Ragnarök - less than 0.1mm), regardless of the heat source.
---
TEST RAGNAR SMOKE (1.0)
THIS IS HOW IT HAPPENED: +900°C for 30 minutes
Two different gas burners tested in the same ace under the same temperature. It was a tough test with only 3.5mm thin steel samples UHB20C- 1% carbon content. Well-adjusted temperature and a time that could correspond to a total time in the ace for forging e.g. knife blades. In reality, the forging goes "out and in" from the crucible and perhaps has a total time in the crucible of about 15 minutes, and not a constant temperature of +900°C. You often start forging from a material thicker than 3.5mm, and thicker material can handle decarburization significantly better. But we like tough tests!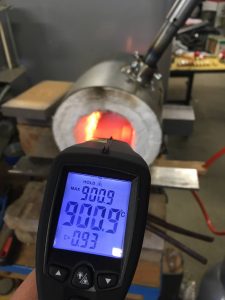 1. Test with Classic gasburner, air intake at the top.
2. Test with ours Ragnarök 1.0
3. Test with untreated subject from the same paragraph as 1 & 2.
---
LULEÅ UNIVERSITY OF TECHNOLOGY
Compilation of hardness profiles and microstructure for sample 1, sample 2 and sample 3
Sample 1
The bright area at the surface indicates decarburization and extends 100-200 micrometers (0.1-0.2mm) below the surface.
---
Sample 2 - RAGNAR SMOKE (1.0)
The bright area at the surface indicates decarbonization and extends approx 100 micrometer (0.1 mm) below the surface.
Up to 100% improvement and almost no decarbonization at all.